ThinkMills.Info™Hub
© Richard G. Mills, ThinkMills.com, ThinkMills.info  All rights reserved.
---
---
Welcome to the beginning of the ThinkMills.info™Hub, and come back again to watch it evolve! Plans are to provide information on a variety of subjects, often linked with richardgmills.HubPages to expand our audience, including information about "going green," product tips and reviews, aging gracefully, English language education (grammar, punctuation, and vocabulary), and possibly some computer-use shortcuts. Currently, the categories Go Green! and My Favorite Things are available and in progress.
---
►New!! — MillsWeatherReader™ Fun
Click/tap the link at the end of the weatherbar at the top of any ThinkMills.Info™Hub page to check out the 4 new weather apps from ThinkMills.com, all controlled by the new weatherbar! Or click/tap the above
MillsWeatherReader™ Fun
link now! Apps work in all 5 major browsers, including on iPad! (Click/tap
ThinkMills.info™Hub
at the top of that page to return here.)
---
►Also New!!
— See
Growing Older, but Not Old!
---
►Go Green!
— Every little bit helps
Green tips you can use at home, at work, on vacation, just about everywhere! (8 pages + HubPages)
Intro and Water Conservation

Energy Conservation

Air and Allergen Pollution Reduction

Rethink, Reduce, Reuse, Recycle

Odds and Ends and Tidbits and...
(How-To's, What-To's, and Things You May Not Have Known!)

Go Green How-To videos and more (richardgmills.HubPages.com)

Coming soon!!!—
Submit your own tips, pics, and videos, and see them published here with "Contributed by" [your name here!] added to the submission!
---
►My Favorite Things — Product reviews
Categories: Clip-on/strip/etc. lights, kitchen appliances/etc., electronics, tools, health and personal care, free software, and more!
ThinkMills.info™Hub reviews — New Voicemail Message-Waiting Light review

ThinkMills.info™Hub reviews — New (PCH) Topsy Turvy tomato planters review

richardgmills.HubPages.com
►My Favorite Things
— Go-go Gadget Recipes
Recipes from various product reviews and other "gadgets"
---
►Growing Older, but Not Old! — New content added!!
AKA: Fighting Aging Chipped Tooth and Broken Nail
Tips for everyday living, Meditation video, Stretching-exercises video, and other articles and videos relevant to celebrating your 28th birthday for the 41st, 42nd, etc., time!
---
The English Made Easy series (to come)
Vocabulary Building Made Easy (to come)
Grammar Made Easy (to come)
Punctuation Made Easy (to come)
Various games for English and math learning and practice (to come)
---
— New Fav added!!
Various computer and web-design favorite software programs plus "how to do this" and "how to do this more easily" articles and videos (to come)
Magic Camera PinP webcam software and so much more!
---
►Advertisers on ThinkMills.info™Hub — Full list
►And special sales and offers: Page in progress; more to come soon!
---
◄Just Think Mills™►
| | | |
| --- | --- | --- |
| Subscribe for updates! > | | < Get special offers! |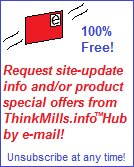 Picture-in-Picture Webcam Software and much, much more! (Click above to download. See ThinkMills.info™Hub review: click Computer Favs & Tips below.